Ivory Coast Regional Deep Imaging
01 October 2019


Geoex & MCG are pleased to announce the Ivory Coast Regional Deep Imaging survey, currently open to companies for pre-commitment.
The program comprises 3,610 km of multi-client 2D seismic data, in continuation to Ghana's regional dataset in partnership with ION and is designed for a potential 813 km extension into the transition zone.
The acquisition is scheduled to start in Q1 2020. Data will be processed in time (PSTM) and depth (PSDM) with the integration of gravity, magnetic and well data for velocity calibration. Processed deliverables will be available from Q2 – Q3 2020.
Please contact Jean-Philippe Rossi to learn more:
jp.rossi@geoexltd.com / +44 1372 739 104
Program map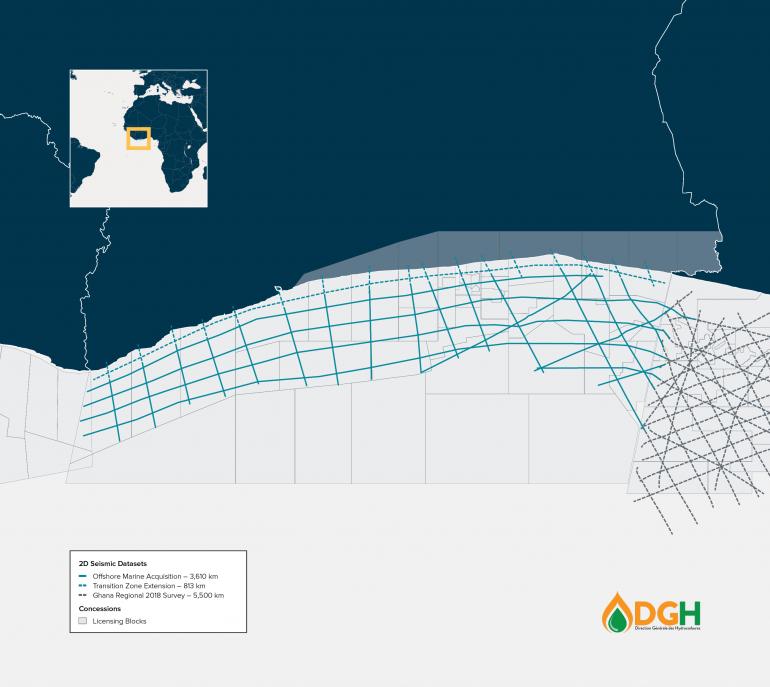 Prospectivity & Objectives
The regional deep imaging survey is designed to identify deeper potential targets in the Lower Paleozoic and Lower Cretaceous/Jurassic that are currently untested. It aims to provide a clearer image of the deeper syn-rift and post-rift sections of the basin architecture that will allow a better understanding of the depositional systems and the identification of potential offshore petroleum systems, from the shallow shelf to deep water (3,000 m).
Focus will be placed on covering major discoveries of the area, also tying with significant wells, to calibrate regional stratigraphic horizons. This will enable a new evaluation of the Ivory Coast – Ghana (ICG) Transform Margin.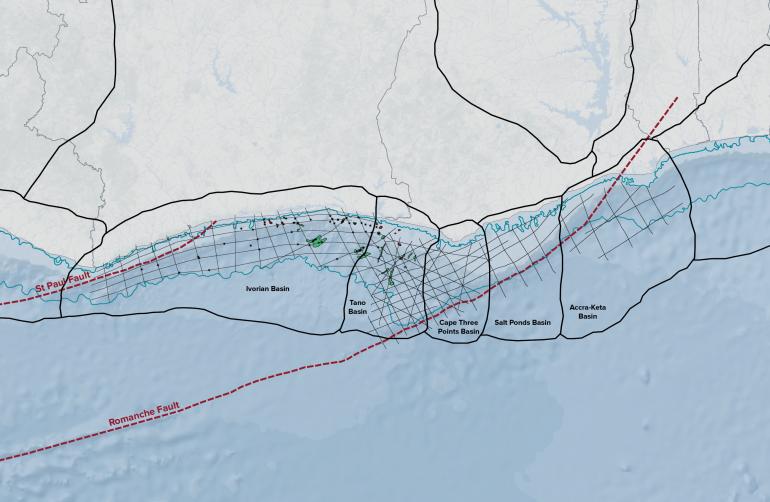 Acquisition Parameters
| | |
| --- | --- |
| Parameter | Value |
| Cable length | 12 km |
| Source | 6,000 cu3 |
| Record length | 18 s continuous recording |
| Sample rate | 2 ms |
| Source depth | 7.5 m |
| Cable depth | 12 m |
| Group length | 12.5 m |
| Shot interval | 375. - 50 m continuous recording |