Nicaragua Opportunities
13 May 2019


Discover new and exclusive opportunities offshore Nicaragua with the Geoex & MCG regional data coverage. The PSTM and PSDM data volumes, offshore Pacific, are available for sale and cover a total of 5,582 km. The Caribbean survey and reprocessing are scheduled to commence in Q4 2019 or earlier.
Since 2015, Equinor (formerly Statoil) have been operating majority of blocks in the Sandino Basin. It is expected that a well will be drilled and a part of the acreage will be relinquished. On the Atlantic side, only one shallow block is operated by Infinity Resources, with the exploration period coming to terms. On both sides of the country, farm-in opportunities may therefore become available.
This shift marks 2019 as the year to prepare for new opportunities, opening a significantly de-risked frontier sector to new exploration perspectives. Geoex's data are exclusive to the region and a perfect match for analysis of regional potential, already generating interest within the industry.
Contact us to enquire about the business opportunities in Nicaragua.
Nicaragua Opportunities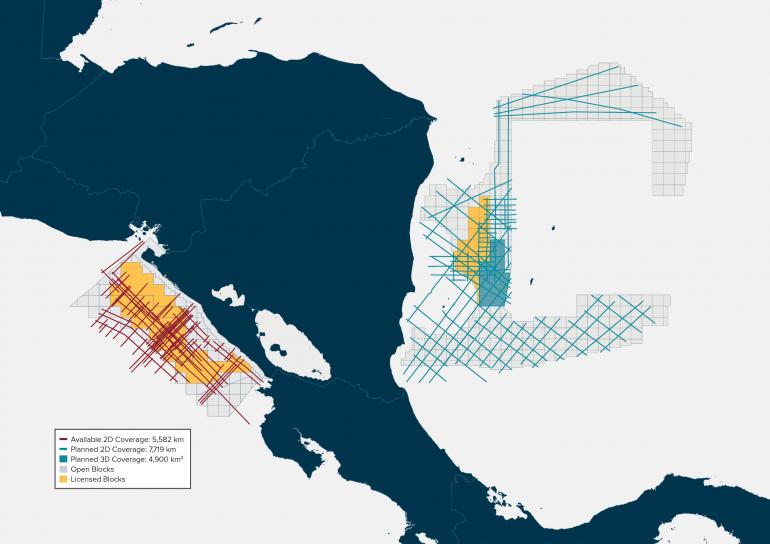 Fig. Geoex multi-client regional programs offshore Nicaragua.
Nicaragua Pacific
The available Pacific datasets span 5,582 line kilometers:
874 km of 2D seismic data (2015)
4,708 km of 2D reprocessed legacy seismic data
The Pacific Coast of Nicaragua comprises the Sandino Basin - a fore-arc basin located in front of the Caribbean Plate of Nicaragua, which was developed during the Cretaceous and contains up to 10,000 meters of Cretaceous and Tertiary sediments. This basin encompasses 160 km of the Middle American Trench and extends onshore through the Nicaraguan Depression.
Reservoir and source rocks have been identified in the Sandino basin. The sedimentary infill of Sandino basin represents a prograding succession of sediments grading from deep (pelagic to slope deposits) to shallow marine to transitional continental system.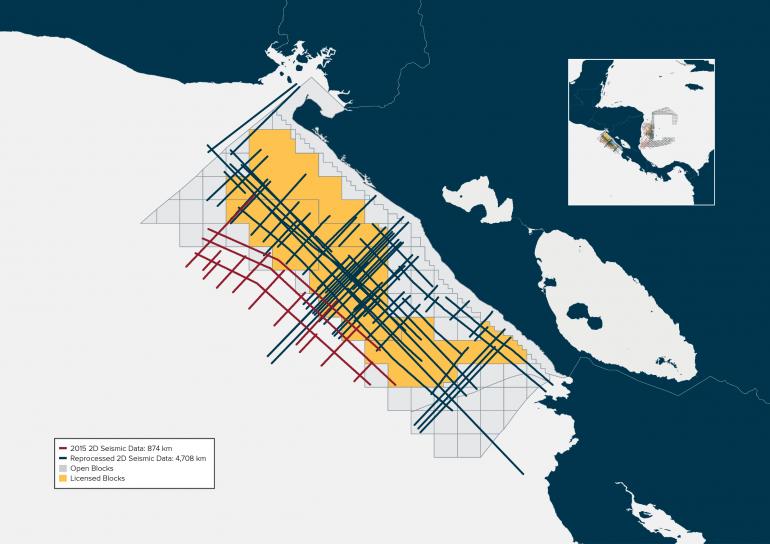 Fig. Nicaragua Pacific multi-client regional 2D seismic datasets.
Acquisition parameters
| | |
| --- | --- |
| Parameter | Value |
| Streamer Length | 8 km |
| Records Length | 10-16 s |
| Sample Rate | 2 ms |
| Source | 3,400 in3 |
| SP Interval | 37.5 m |
Processing parameters
Data have been processed in both time (PSTM) and depth (PSDM) using DownUnder GeoSolutions' Broad Deghosting Technology.
Legacy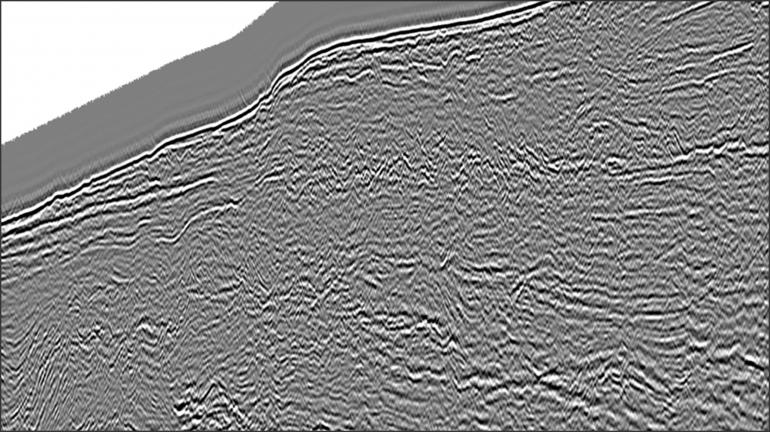 Reprocessed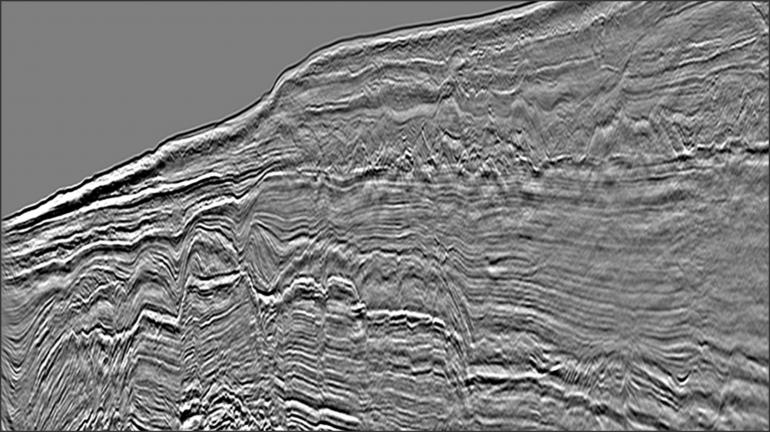 Nicaragua Caribbean
The new 2019 regional Caribbean survey offshore Nicaragua will be carried out by Geoex in Q4 2019 or earlier, subject to market interest in blocks on offer. PSTM & PSDM reprocessing is scheduled to commence Q3 2019.
The program will cover:
Up to 4,000 km of new 2D seismic data
3,719 km of reprocessed 2D seismic data (vintages 1977, 1999 and 2013)
4,900 km2 of reprocessed 3D seismic data (vintage 2011)
In spite of the lack of commercial discovery from the Paraiso well drilled in 2013, the Mosquitia Basin keeps a high potential, falling in the top fourth of the 63 basin areas ranked in the Caribbean Regional Review. The basin rank reflects a moderately explored basin that exhibits good source rock potential with oil shows recorded within the basinal area. The majority of the basin is in shallow-water (less than 500 deep) making it highly suitable for exploration.
Furthermore, the offshore area now provides for the full domain reaching up to the recently agreed borders between Nicaragua and its neighbouring countries. This new and unexplored area is an interesting target for evaluation, included within the new seismic acquisition scheduled.
Planned Nicaragua Caribbean 2D & 3D seismic reprocessing program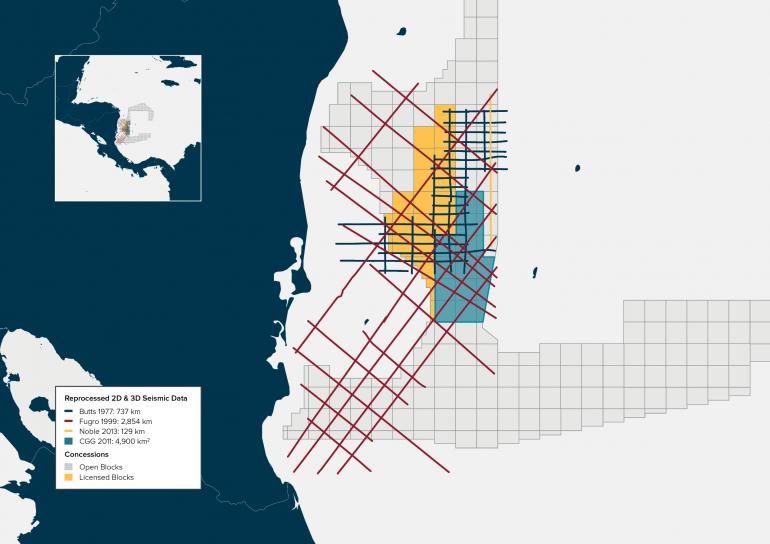 Fig. Nicaragua Caribbean planned multi-client 2D & 3D seismic reprocessing program.
Acquisition parameters
| | | | | |
| --- | --- | --- | --- | --- |
| Parameter | Butts 1977 | Fugro 1999 | Noble 2013 | CGG 2011 |
| Water depth | 25 to 1,000 m | 50 to 1,600 m | 25 to 500 m | 50 to 1,600 m |
| Streamer length | 1.76 km | 3.6 km | 6 km | 10 x 8 km |
| Records length | 4 s | 8 s | 9 s | 9 s |
| Sample rate | 4 ms | 2 ms | 2 ms | 2 ms |
| Source | 1,400 in3 | 2,860 in3 | 4,450 in3 | 4,450 in3 |
Planned Nicaragua Caribbean 2D seismic data program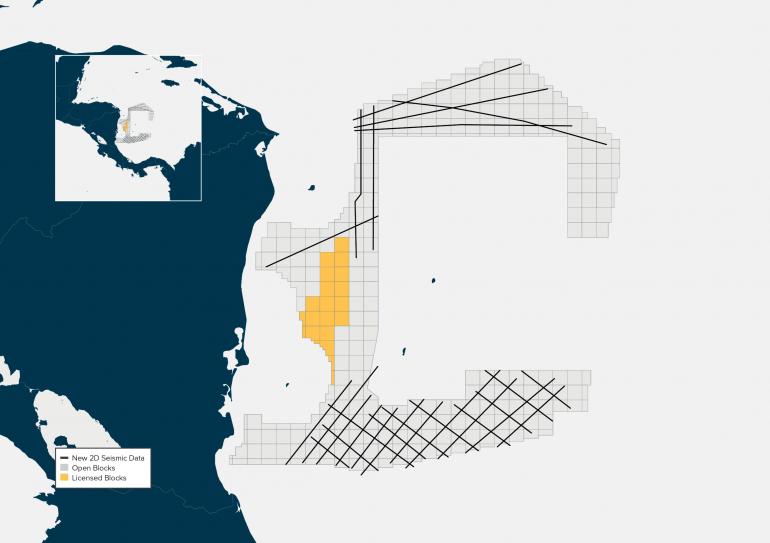 Fig. Nicaragua Caribbean planned multi-client 2D seismic data acquisition.
Acquisition parameters
| | |
| --- | --- |
| Parameter | Value |
| Water depth | 50 to 2,500 m |
| Streamer | 12 km minimum (long offset) |
| Source interval | 37.5 m |
| Receiver interval | 12.5 m |
| Record length | Continuous |
| Sample rate | 2 ms |
| Source | Above 3,850 in3 |